There has been a lot of global focus on the African music scene in recent times. Despite the diversity in sound and genre, music has been one of Africa's biggest exports to the world. Artistes like Davido, Grammy nominated Burna Boy and Wizkid, to name a few, have continued to champion the "Afrobeats to the world" movement. They are constantly breaking barriers, and are slowly creating a larger space for other artistes to shine on the global stage, especially the younger generation.
Outside the very famous names, there have been a lot of extremely promising acts who have shown potential to take African music to the next level. These prospects have, for a particular period of time entertained us with quality music, from various genres, even in this era where Afrobeats has been extremely dominating.
OMAH LAY
For years, Lagos State has been and remains the centre of entertainment in Nigeria. Being one of the most populated states as well as the commercial capital of the country, it has all the right economic and social factors for musicians to gain traction, following, and eventually success. Due to this, musicians from the rest of the country find it hard to break through in the industry; Port Harcourt, for example, has had a lot of musicians unable to achieve nationwide success, thus relegating them to mere "local champions"
All these have changed with the introduction of Omah Lay (real name Stanley Omah Didia) from Port Harcourt, Rivers State. His road to success started when he was a teenager rapping on the streets of Port Harcourt with the "Lil King" moniker. When this did not work out, he devoted his time to learning music production; in the process making a couple of records that got a massive replay on the local radio. However, he went back to singing when he realised that he failed to get recognition for these songs. This led to him releasing 'Do Not Disturb' and 'Hello Brother' which enjoyed airtime on the radio as well. Following the success of these songs, he signed a record deal with KeyQaad in July 2019. From here on, the resources were available for him to reach a wider audience and accelerate his come up. On Valentines Day 2020, he released 'You', a viral hit that brought him into the consciousness of audiences and music journals in Lagos. The radio banger was the platform on which he put out 'Get Layd', his debut 5-song EP featuring the massive hit 'Bad Influence'. The project's success made Omah Lay the debut artiste on Apple's Africa Rising Campaign.  With his incredible vocal delivery and versatility on different beats, Omah Lay, a proud 'PH boy' is proof that musical talent still exists outside of Lagos. Not since Duncan Mighty has an artiste from the Garden City captured the ears of the nation. Long may he continue to bless our ears with music.
REMA
Edo State's place in Nigerian music is undisputed. The culture-rich state has generously given to us legends like Sir Victor Uwaifo and Alhaji Waziri Oshomah; pillars of the highlife genre. However, the sound that is reverberating through the streets of Benin is not highlife, but Afropop; a mashup of afrobeats, hip hop, reggaeton, and frankly, whatever else Divine Ikubor, popularly known as Rema decides.
Nigeria's boy wonder started rapping and singing in schools and churches in Benin, Edo State. In the midst of all this growing up, Rema had to deal with the loss of his father and brother; creating a hunger for success in his young mind. In his words, "I was lost after losing my brother…I had to change the way I talk, the way I act and fight to make it in society." In this maturing period, he moved to Ghana to work and returned with a new perspective on music. He also experimented with a couple of ideas; creating his own live band, as well as being one-half of a rap duo with fellow Benin rapper, Alpha P. After his freestyle to D'Prince's "Gucci Gang" went viral, he was signed by Jonzing World Records, a subsidiary of Mavin Records, Don Jazzy's label. The rest, as they say, is history; history being three chart-topping EPs, features on Pitchfork and Rolling Stone; a Barack Obama co-sign and a spot on the soundtrack to Fifa 21's Volta (street soccer) mode. Rema's dedication to experimenting with music has seen him take the industry by storm with unconventional melodies and sounds. This refreshing approach has shown various ways music can evolve and grow, especially in an industry suffering from repetition to fit current trends. From the soft trap on "Why", to the infectious grooves of "Lady", his music is unpredictable and although he polarizes opinion among various stakeholders in the music industry, he has their attention. With a distaste for boundaries and labels and tremendous success in such a short time, Rema is pushing Nigerian music to new levels. and his trajectory is definitely one to watch, alongside his teddy bear.
FIREBOY DML
In early 2019, a handsome dreadlocked musician had everyone dancing to "Jealous"; a song about a loverboy trying to secure his woman. All the way from Abeokuta, Adedamola Adefolahan also known as Fireboy DML was topping the Lagos charts and the dance floors as well. Fast forward to a year later, he has two stunning albums, a larger fanbase with local and international recognition, and a FIFA 21 soundtrack. The best part is he is just at the beginning of what is sure to be an illustrious career.
The journey to this was not easy though; after he graduated from university, Fireboy moved to Lagos to pursue a career in music. This part of his life was filled with him begging to perform at shows and sometimes paying promoters to do this. He also wrote songs for other artists for little money; songs he later admitted he regretted selling but did so because of his situation then. According to Fireboy, his style is afro-life. In an interview with Dazed, he stated that the term is his way of asserting that his music stands out and letting people understand that he does not make music like anyone else. It is also not just restricted to music, but it is also a movement and a state of mind. As the Nigerian music scene's latest resident loverboy, his music majorly centres on love and confidence; topics that resonate with his major listeners: young people growing up in a country that is hard on creativity and expression. After the release of 'Jealous' and a handful of other singles, he released his debut album; "Laughter, Tears and Goosebumps" to immense success and critical acclaim in November 2019. A year later, he released his sophomore project "Apollo"; a project different in tone from the former; calculated to show his versatility and his interpretation of life as it is now with his newfound fame, but still a brilliant offering. For Fireboy, the sky is the starting point and it is best to keep an eye on him before he flies out of sight.
OXLADE
Surulere; home to arguably Nigeria's finest export since crude oil, Wizkid, has produced another gem. Ikuforiji Olaitan Abdulrahman also known as Oxlade is the latest voice providing soundtracks to the nation from the streets of Shitta to Lawanson. Like most artists, he started singing at a very young age; 10, in his case. He would carry this passion up to university against the wishes of his father who wanted nothing to do with his musician son. This led to Oxlade doing menial jobs to survive and leaving home to squat with different friends.
Oxlade broke into the music industry's consciousness with the release of "Mamiwota" in which he was featured by a fellow up and comer BlaqBonez. From there on, he made steady progression with co-signs from various artistes like Moelogo and BOJ as well as industry weights like Bizzle Okoya. All the momentum led to him performing alongside Wizkidat the StarBoy Fest at the O2 arena, London in 2019. In early 2020, at the beginning of lockdown, he released his debut EP, 'Oxygene'; supported by the chart stopper 'Away' to critical acclaim. Oxlade describes his sound and lifestyle as Afro-fusion, which is a mix of different influences, as well as a dedication to promoting Africa and her brands; on a song with Skip Marley, H.E.R and Davido, he started his verse with "Oxlade from Africa", a statement pushing his love for the continent as well as promoting this to the international audience he knew the song would have. Another graduate of the lover boy school, his music is inspired by the relationships in his life and the different ways he negotiates them. His vocal dexterity is another quality that endears him to fans; he is as comfortable on a slow R&B track as well as he is at home on a fast-paced afrobeat banger. And although his full debut year was tampered with by the Covid-19 pandemic, his music has proven to be even more infectious, and his moves are one to keep an eye on.
TEMS
On track four of her 'For Broken Ears' EP, Tems' mother is heard describing the circumstances of her birth, calling her a "special baby", and it is no surprise that the girl who was divinely born has transferred this divinity to her music.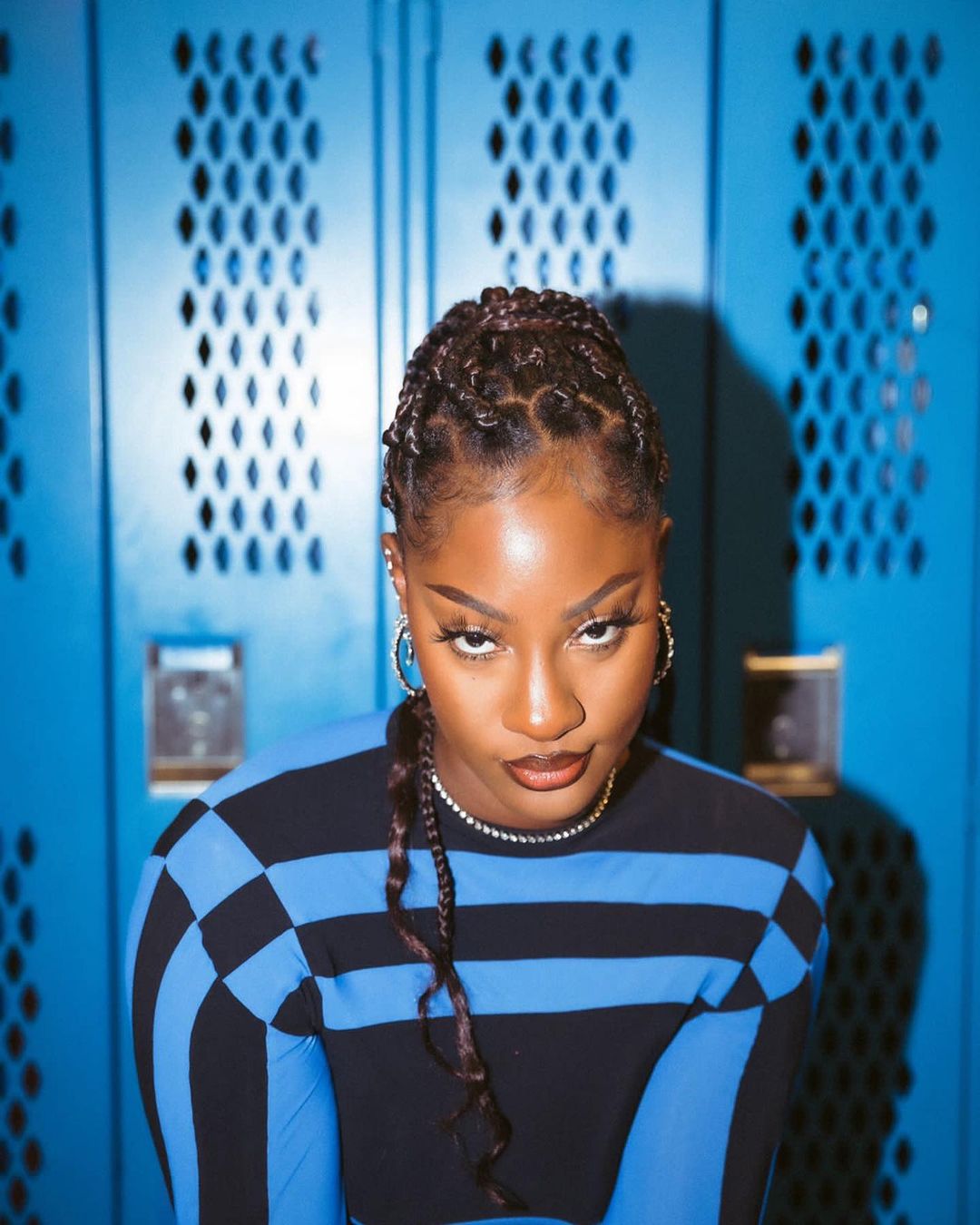 Tems, real name Temilade Openiyi, is a singer, songwriter, and producer from Lagos, Nigeria. Raised by a single mother, she started her music career at 11 in the church choir. At 13, she decided she would do music. After Secondary School, she moved to South Africa to study economics. At the age of 20, she began honing her skills at production, and in 2018 released her breakout single "Mr. Rebel". The single quickly climbed up the charts, with the local music community pleasantly surprised at the emergence of a fresh voice. Building on this success, she continued to release music with "Looku Looku" in January 2019. However, it was with "Try Me" in August that Tems truly took the industry by storm. With her robust voice bouncing off a gritty beat and screaming lyrics that the major youth population could relate to, she crossed over from potential maybe into a serious contender. For the leader of the Rebel Gang — as her fans call themselves — her freedom to make the music she wants is paramount. Her experimental approach to sounds; blurring the lines between genres and mixing styles in an unorthodox yet harmonious way is her strongest and most attractive quality. The success and accolades are following closely too: a critically acclaimed debut EP and a stellar collaboration with Wizkid, the gospel of Tems just can not stop spreading.
LADY DONLI
"Cash Mummy" as she often regards herself is a US born – Nigerian singer and songwriter. Zainab Elizabeth Donli is one of the pioneers of the alternative (alte) movement in Nigeria – a movement which is characterized by a group of young artists with distinct styles from the mainstream, especially in music and fashion. Lady Donli got inclined with music from the Evangelical Church of West Africa (ECWA), at a very young age. She was influenced by the style and pattern of music played at the church. As she grew older, she began to get familiar with the sounds around her at the time, with artistes like Angelique Kidjo Erykah Badu, and Asa, and mainstream Nigerian pop, you can tell the kind of musical background she has. These have had a huge influence on her music as she usually plays around the soul, alternative rock, R&B, and pop genres.
Lady Donli released her first project in 2014, a 12-track EP titled "Love or War". She started to make a name for herself on the music scene after the release of her second EP titled "Letters To Her" in 2017. The project which featured fellow alte artistes, Yinka Bernie and Tay Iwar, attracted a couple of listeners, especially on Soundcloud. Later on, she started to gain major attention, even in the mainstream, especially with her collaborations involving artists – Mr. Eazi and MI Abaga. In 2019, she released the hit single "Cash" which later turned out to be the lead single off her debut album – "Enjoy Your Life". The song garnered extra fans for her, which was good for business as she prepared to release the first album of her blooming career. A few months later, she released "Suffer Suffer", a seeming follow-up to the previous single – "Cash". Donli just wants to make money and live the good life, she's not here to suffer. On the 9th of August, 2019, she finally released "Enjoy Your Life", a 15-track album that draws inspiration from retro African sounds, especially with samples from sounds of legends like Mama G (popularly known as Patience Ozokwor), and former Mo-Hits star, D'banj. The album is a combination of diverse deliveries and melodies. A few months later, she released a remix of the hit single "Cash" with superstar artiste, Davido. In 2020, she worked as A&R for The Cavemen's debut project "ROOTS", a possible return in favor as the duo appeared on "Corner", the 9th track off her album.
Lady Donli draws inspiration from different cultures, being born in the USA, raised in Abuja, Nigeria while shuffling from city to city in her adult life; her music comes from many places and takes different forms. From holding living room concerts to the retro-inspired niche she has created for herself, she shows a clear difference from what she can be and do, from the norm. She's here to make music, and that's what it is for her. Regardless of her non-conversant sound in the Nigerian mainstream, Lady Donli continues to blend sounds from diverse cultures and eras. She makes inclusive music of diverse sounds, which makes it a lot easier to satisfy multiple numbers of listeners. Even in an industry that is male-dominated, she continues to stand tall amongst her peers and has made a huge impact on the big stage.
SHO MADJOZI
Sho Madjozi is widely known as one of the best performers in Africa. Born Maya Christianah Wegerif, the South African rapper, poet and singer is a graduate of Creative Writing and African Studies from Mount Holyoke College, Massachusetts, US. Upon her return back to South Africa, she began writing music for local artistes. From this, she started rapping and composing music for herself, and coined the stage name "Sho Madjozi". The fast-rising star has over time shown versatility in her music, with her songs ranging from various genres like South Africa's Gqom, hip hop and Afropop. Sho Madjozi's music, fashion and lifestyle is highly influenced by SA's Tsonga culture.
Her rise to stardom began after getting featured on Okmalumkoolkat's' Ngiyashisa Bhe' and hit single 'Gqi! 'in 2016. The following year, she released her debut single 'Dumi HiPhone' which became a massive hit within weeks of release. In the same year, she appeared on DJ Maphorisa's 'BlaqBoy Music Presents Gqom Wave',where she featured on the song – 'Probleme'. In 2018, already having two hit singles to her name, her partnership with Trace was announced. She became an ambassador for their mobile pre-paid provider – Trace Mobile. In December of the same year, she performed at the Global Citizen Festival: Mandela 100, alongside other notable names in the continent and from around the world. She went on to release her debut album 'Limpopo Champions League'. The 13-track album earned her two wins at the 25th edition of the South Africa Music awards in 2019, one for Newcomer of the Year and the other for Best Female Album. In June 2019, she received a BET Award for Best New International Act. Her single 'John Cena', was released later in 2019, and earned her attention on the global stage. She got praised by the wrestler himself after he surprised her at the Kelly Clarkson Show where she went to talk about the song. The rapper got officially signed to Epic Records in June, 2020 and became a part of the label's highly esteemed roster which includes artistes like Travis Scott, Future, French Montana, and others. Sho Madjozi has placed herself as one of Africa's fastest rising stars. She has gained a wide audience across borders, while satisfying a variety of listeners. She has performed on stages alongside notable artistes and has gotten remarkable recognition. Just few years in and Sho Madjozi is slowly becoming a household name in the African music industry.
KWESI ARTHUR
Who would have ever thought that Canadian-born rapper and singer, Drake, would inspire a young chale from the streets of Ghana? This is the story of Ghanaian Afrobeats and hip hop artiste, Kwesi Arthur. While still at a very young age, he came across Drake's debut studio album – 'Thank Me Later' through a friend, and got inspired to do rap music. Fast forward to a few years later and he's one of Ghana and Africa's young rap sensations.
Kwesi was born and bred in Tema, Ghana, which has been a huge influence on his music as he occasionally makes references to his community in his song lyrics. Growing up in Tema, home to some of Ghana's biggest superstars like Sarkodie and R2Bees, Kwesi didn't have it so easy. After high school, he was unable to further his education due to lack of adequate financing, he had to get a job at a studio where the owner taught him how to record music. In 2015, he came in contact with Ground Up, a platform established to help young talents across Ghana. He began to swamp social media with his freestyles, with the backing and support of Ground Up, all in a bid to create awareness and bring some attention to himself. Two years later, he released his single 'Grind Day' on the platform's Youtube channel. It gained positive reactions from the public and it became his major breakthrough song. He went on to release the remix of the song with features from Ghanaian "Rap King" – Sarkodie, and Medikal. Not long after, his debut EP – 'Live From Nkrumah Krom'was released, and like its lead single, the project was successful and made a huge impact, even beyond Ghana and around West Africa. The following year, he got a BET Award nomination in the Viewers Choice Best International Act Category, making him the youngest Ghanaian artist to get this nomination.
Kwesi released his second EP – 'Live From Nkrumah Krom, Vol II: Home Run', in 2019. A 9-track album which is a fusion of hip hop and Afrobeats. Like the previous one, this project was a huge success. It gave him a solidified position amongst the elite of the Ghanaian music space, especially with songs that contained verses from Stonebwoy, Sarkodie, Mr Eazi and Shatta Wale. Coming from a humble background, Kwesi never really had it easy while growing up, but that never stopped him from living his dreams, instead it was enough motivation to put him where he is today. One thing that makes him stand out from his peers is his ability to connect with the fans, especially with his storytelling. He's currently regarded as one of the best young artistes in Ghana, and with just few years in, he has more than enough to back that claim.
SHANE EAGLE
Shane Patrick Hughes, popularly known as Shane Eagle, is a South African songwriter, rapper and record producer. He got the name "Eagle" from a group of friends who resided in Johannesburg like him. He began making music while he was in high school and he recorded his first song at the age of 13. After graduating high school in 2015, he applied to be on South African rap music reality contest –The Hustle. The rapper got chosen to compete after uploading a video of himself rapping on his social media, as required. He finished third place at the competition, and this earned him public attention and had automatically built for him a fan base upon his exit from the competition. Towards the end of the year, he released his first single titled 'Way Up', which featured the winner of the 'The Hustle' reality contest, Bigstar Johnson. The trap-kwaito song which was highly anticipated boosted the rapper's rise to stardom.
He followed up with singles 'I'm Back', 'Cutting Corners' and 'Top Floor'. These came in 2016 as the first singles under his own record label, Eagle Entertainment. During this time, he made collaborations with notable artistes like A-Reece and Da L.E.S. Eagle was also selected to perform at the Castle Lite Unlocks concert, where he shared the stage with big acts including US rapper, J. Cole. In 2017, the rapper had quite a successful year, after he released his debut album titled 'Yellow'. The 13-track single feature project was a huge success as it gathered over 1 million streams on Apple Music in its first 3 months of release. It bagged the award for Best Hip Hop album at the 24th South African Music Awards and also got nominated for Album of the Year, and some other nominations at the same Awards ceremony. With these, he established himself as one of South Africa's greatest lyricists. Eagle dropped his debut EP titled 'Never Grow Up' in 2018, which was later certified gold by Recording Industry of South Africa, alongside the lead single off his debut album, 'Let It Flow'.In 2019, he released his debut mixtape titled 'Dark Moon Flower', a project that contains 23 songs with features from notable artistes like US rapper – Bas, and fellow SA rapper – Nasty C. He expresses his signature lyricism on the album which is built around his life experiences.
Despite his failure to come out top at that reality contest, Shane Eagle has proved to be the ultimate winner. From bagging awards to sharing stages with renowned artists, the 24-year-old is steadily finding new ways to keep himself at the top of the game.
MOONCHILD SANELLY
Sanelly's music subliminally screams "sex", with her constantly explicit lyrics about female desire. Born Saneliswe Twisha, Moonchild Sanelly is a South African artiste of multiple genres which include hip hop, Gqom, Kwaito, R&B, Soul, and her self-created genre called "Future ghetto punk."With a musical background from childhood, she kicked off her career in 2006 by performing at shows at Durban University of Technology. Her major focuses at the time were hip hop and poetry. She started to gain major recognition after her collaboration with DJ Shimza and DJ Maphorisa on a song titled 'Makhe' which was released in 2017.
She released her debut album titled 'Rabulapha!' in 2015, an award-winning 12-track album which was later re-released under her new record label – Transgressive Records, this year. She also released her debut EP titled 'Nudes', a project fusing Sanelly's infectious energy, containing anthems for all black women. Sanelly is slowly growing into a global star, with performances at the Sound Festival, Primavera in Spain in 2018, and Coachella in 2019. She also got the attention of world-renowned musician, Beyonce, and got to feature on her 2019 album – 'Lion King: The Gift' on the song 'My Power' with fellow SA artistes, Busiswa and Nija. Her unique style of music, and fashion – especially her trademark blue braids which cannot go unnoticed, is what keeps her at an arm's length from her peers. The self-acclaimed queen of the Gqom genre is often seen as a sex figure and is never afraid to flaunt her body. She gives out sex advice through her social media accounts and has tagged herself as an advocate for female orgasm. She is spirited and undeniably outspoken, slowly becoming a symbol for female sexual liberation in South Africa. The multitalented creative who is also a fashion designing graduate from Linea Fashion Academy launched her clothing line called Moonchild Cultwear. She also runs a nude club where she says anyone can come to be comfortable with their sexuality.
Moonchild Sanelly has established herself as not just a musician, but a movement herself. She has attained remarkable recognition around the world and continues to pride herself as the queen of Gqom music. She's clearly on the path to sit at the table with the greatest of Africa's musicians